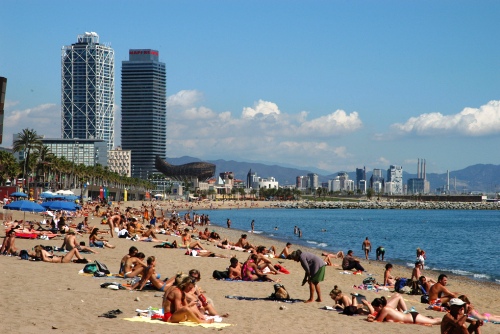 Apr

24
Tags
Related Posts
Share This
Attacking the Aggregate
By Soccer Guru James Kempton (follow him on twitter @ukbettingpro)
Chelsea travels to the majestic Camp Nou with a slender 1-0 advantage gained  in last week's first leg. The Blues were able to escape that game without conceding a pivotal away goal which could end up being the difference should Barcelona only beat Chelsea by one goal in today (assuming Chelsea isn't shut out). The first matchup was dominated by Barcelona as they controlled the pace and tempo of the game from the opening kickoff. Barcelona wasted numerous opportunities in front of goal and could have run out comfortable winners if they'd converted around the goal mouth. However, they didn't and as Barcelona boss 'Pep' Guardiola quite rightly said "if the game was decided by possession stats we would never lose a game, it is about putting the ball into the back of the net. They did and we didn't."
Very rarely, before such an important Champions League encounter, will both teams face huge fixtures in their domestic campaigns like Chelsea and Barcelona did on Saturday. I was fortunate to be at The Emirates Stadium last Saturday to see Chelsea earn a 0-0 draw against Arsenal utilizing a quality display of counter attacking football. They sat off the hosts, as they will on Tuesday, springing lively when the opportunity arose. In anticipation of today's showdown, Chelsea boss Roberto Di Matteo rested his whole midfield quartet to save their legs. Di Matteo is acutely aware of the hard work that those four will be required to undertake in this second leg if they're to make the 1 goal differential hold-up in hostile territory.
Conversely, Barcelona was not afforded the same luxury since the magnitude of 'El Classico' (the nickname for their game against Real Madrid) meant they had to play their starters for a full 90. Guardiola rotated a little but not as much as I think he would have wanted to under the ideal circumstances. Led by Christiano Ronaldo, Real Madrid upset Barcelona with a 2-1 win, all but securing the La Liga title For a side in Barcelona that hadn't lost at home in it's previous 55 chances, you can imagine they'll be ready for Chelsea later this evening.
Football pitches are like women; some men like slim ladies whilst others prefer the fuller figure. Chelsea has a pitch like the former, slender and easy on the eye. This helped them in the first leg with their defensive shape as the smaller track allowed them to cut down the angles of attack, limiting the amount of space for the Spaniards intricate passing. On Tuesday night, Chelsea will try and do the same but on a pitch 239 square metres bigger. More open space should give the home team opportunities to probe that Chelsea backline as they search for a 2 goal victory. The open expanses of the Camp will prove far harder to defend than Stamford Bridge so expect to see the home side really spread the game wide to try and draw Chelsea out of their comfort zone. This will require an even more disciplined performance from Chelsea than they produced in the first leg.
Barcelona will play the way they always do, patiently with an emphasis on controlling the possession battle. Chelsea will look to sit back and soak up the relentless pressure that the home team will inevitably employ. Attacking set plays will be crucial for Chelsea because if they can get enough of them and get good strong ball delivery, they'll provide a challenge for Barcelona's defensive unit. Unfortunately, this may lead to further play acting antics from Didier Drogba in the blue of Chelsea. He is effective though in winning free kicks in dangerous areas so do not rule out Chelsea finding a way to steal a valuable road tally. It takes immense concentration and discipline to hold Barcelona out but if any English team can do so, I'd say Chelsea is that side. However, I'm not convinced that Chelsea will be able to limit Barcelona for the 2nd time in 6 days and truly believe a commanding win for the Spanish side will set up a potential El Clasico rematch between the two premier sides in all of Spain.