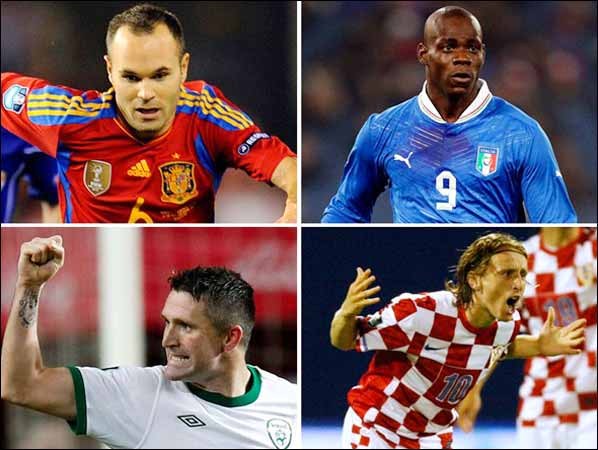 Jun

06
Tags
Related Posts
Share This
Euro Cup – Group C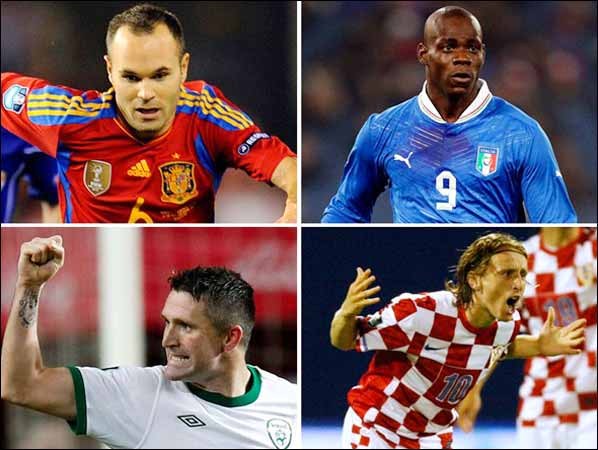 Written by @bdolan12
Group C: Croatia, Italy, Ireland, Spain
Snap Shot: Group C looks to be an interesting mix of teams that has everything from the tournament favorite (Spain), a team playing their first EURO in 24 years (Ireland), and a side caught in the middle of major match fixing allegations (Italy). Group C offers intriguing questions, most importantly: Can Spain continue its dominance and win EURO 2012 on the heels of their 2010 World Cup championship?
Group C Schedule
Sunday, June 10 12 EST: Spain vs. Italy
Sunday, June 10 2:45 EST: Ireland vs. Croatia
Thursday, June 14 12 EST: Italy vs. Croatia
Thursday, June 14 2:45 EST: Spain vs. Ireland
Monday, June 18 2:45 EST: Croatia vs. Spain
Monday, June 18 2:45 EST: Italy vs. Ireland
Croatia
FIFA ranking: 8
After missing out on the 2010 World Cup, Croatia will be happy to be involved in a major tournament once again. However, this tactically strong team measures their success based on results not just appearing on the big stage. The key to their squad is Tottenham's star midfielder Luka Modric. The playmaking midfielder is by far the most well known player on the squad needs to serve as primary distributor if the Croats are to advance from Group C. Niko Krancjar, also of Tottenham, and captain Darijo Srna strengthen the midfield which is clearly the team's overall strength. With a less than spectacular defense, there will be an emphasis on scoring goals to take pressure off the back. Up front, there are a few decent options in Eduardo and Ivica Olic who have 45 and 77 caps respectively. However, Olic suffered a thigh injury this week in a friendly and might be limited entering the tournament. Another interesting option is Nikica Jelavic, who found it easy to score in the Premier League after his January move to Everton. Jelavic netted 9 goals in only 13 appearances for the Toffees. Croatia will be an interesting team to watch this summer, as anywhere from a 2nd place finish to a 4th place finish in Group C wouldn't surprise me.
Italy
FIFA ranking: 12
The 2006 World Cup winning side aims to return to glory after a lackluster performance in South Africa that had the Azurri furious. Coach Cesare Prandelli fields a talented squad with plenty of skilled options but also a slew of question marks. Domenico Criscito was recently dropped from the squad in the midst of suspected involvement in a match-fixing scandal that plagues Italian club football once again. Another wild card (as always) is the role of striker Mario Balotelli, the mercurial Manchester City striker. Balotelli is one of the few players on the squad that plays his club football outside of Italy. He's known for his attitude, controversial antics, and for immense talent scoring goals.  Besides Balotelli, options at striker include Antonio Cassano, veteran Antonio Di Natale, and speedy youngster Fabio Borini, a former Chelsea player. One position that is not up for debate is captain Gianluigi Buffon's role between the posts. Despite having 113 caps in his career, Buffon is still a top goalkeeping option even as he approaches the twilight of his career. In the midfield, Andrea Pirlo and Daniele De Rossi will be the true determinants of how far this side can go especially in their opening match against Spain.  It remains to be seen if this Italian team will be able to put it all together and make a deep run at EURO 2012 but we should find out early since Italy's opening match is against Spain. I expect them to place 2nd in Group C, which could potentially set up a World Cup Final rematch with France in the quarterfinal.
Ireland
FIFA ranking: 18
Without a Euro Cup appearance since 1988 or a World Cup appearance since 2002, Ireland is just be happy to be involved in Euro 2012. However, their 73-year-old manager Giovanni Trapattoni will have them focused and hungry to grind out results. The Italian manager is vastly experienced in European football and has stated that the starting line-up from Monday's friendly will be his lineup in the opening game. The starting line-up will likely feature Shay Given, the talented and experienced goalkeeper who seems to have overcome a limiting injury. Defensively the team is led by his Aston Villa teammate Richard Dunne and former Manchester United player John O'Shea. The midfield features veteran Damien Duff (Fulham) and Aiden McGeady (Spartak Moscow), one of the younger starters in this aging squad. Up front, Trapattoni will count on Kevin Doyle and the captain Robbie Keane. The Irish won't score many goals but the squad is filled with experience and they have played great team defense lately. I think Ireland catches a break by playing Croatia in their first game, a game that they need to treat as a must win if they're to advance. If they can get a win against the Croats and Spain defeats Italy, the Irish prospects will increase immensely however slim most oddsmakers believe their actual chances really are.
Spain
FIFA ranking: 1
Spain is the favorite to win the tournament and it's tough to argue against what this team's core has accomplished on the international stage. Their Euro 2008 triumph was followed up with a 2010 World Cup victory and a flawless Euro 2012 qualifying campaign. This squad looks very similar to the one that won in South Africa however, there are two notable absences in the form of defensive stalwart Carlos Puyol and the versatile goal scorer David Villa. Villa was the top scorer in the Euro 2008 tournament and joint top-scorer in the 2010 World Cup but will not be featured this summer as he's yet to fully recover from a broken leg. Puyol's absence will move Sergio Ramos (Real Madrid) into the center of defense, different from his usual right-back position. The Spanish midfield is the best in the world and is the key to their success. Xavi, Andres Iniesta, Xabi Alonso, Cesc Fabregas, Sergio Busquets, Juan Mata, and David Silva are all top talents and essential to the ball control style Spain will employ. At striker it will either be Fernando Llorente or Fernando Torres asked to carry the torch. Goalkeeper Iker Casillas has 129 international appearances, which is more than any other player in this tournament. Spain gets their stiffest group test right out of the gates with an encounter against Italy but they should win Group C and it's hard to imagine them exiting Euro 2012 early.  The lone fear with Spain? Will the fire and motivation still be there for a team laden with players who logged a bevy of extra club games this season through a multitude of domestic and continental tournaments.
Betting opportunities: It's a long shot in terms of odds, but it might be worth taking a flier on Ireland to earn a result with Croatia in their opener. Elsewhere, Torres at 14-1 to be the tournament's top goal scorer could pay handsomely if he ends up getting the starts and an early goal or two.
Player to watch: Fernando Torres always seems to be the international man of mystery when it comes to his disappearing act.   Since scoring the winner in the final at Euro 2008, Torres hasn't been the same player. Although he took part in the World Cup triumph, his goal scoring rate has plummeted since his record breaking transfer to Chelsea. Torres rounded into decent form towards the end of the year and helped Chelsea win the Champions League. Even with the wide array of attacking talent in the midfield, the Spanish will likely need Torres to deliver if they are to win Euro 2012 without David Villa.
Expected order of finish: Spain, Italy — Ireland, Croatia
Todd's Take: Call me crazy (not call me maybe) but Italy is the team to watch. I believe they will play inspired soccer right from the start and a result against Spain could galvanize the controversial side in their quest to restore pride for the Azurri and make them an intriguing bet to win the whole thing.  I think Ireland will have an extremely difficult time scoring goals so look for any prop under on their total offensive output this tournament.
Looking for more team specific breakdowns? All links courtesy of www.thebiglead.com
Croatia, Italy, Ireland, Spain
Missed Group A preview? Click Here
Missed Group B preview? Click Here