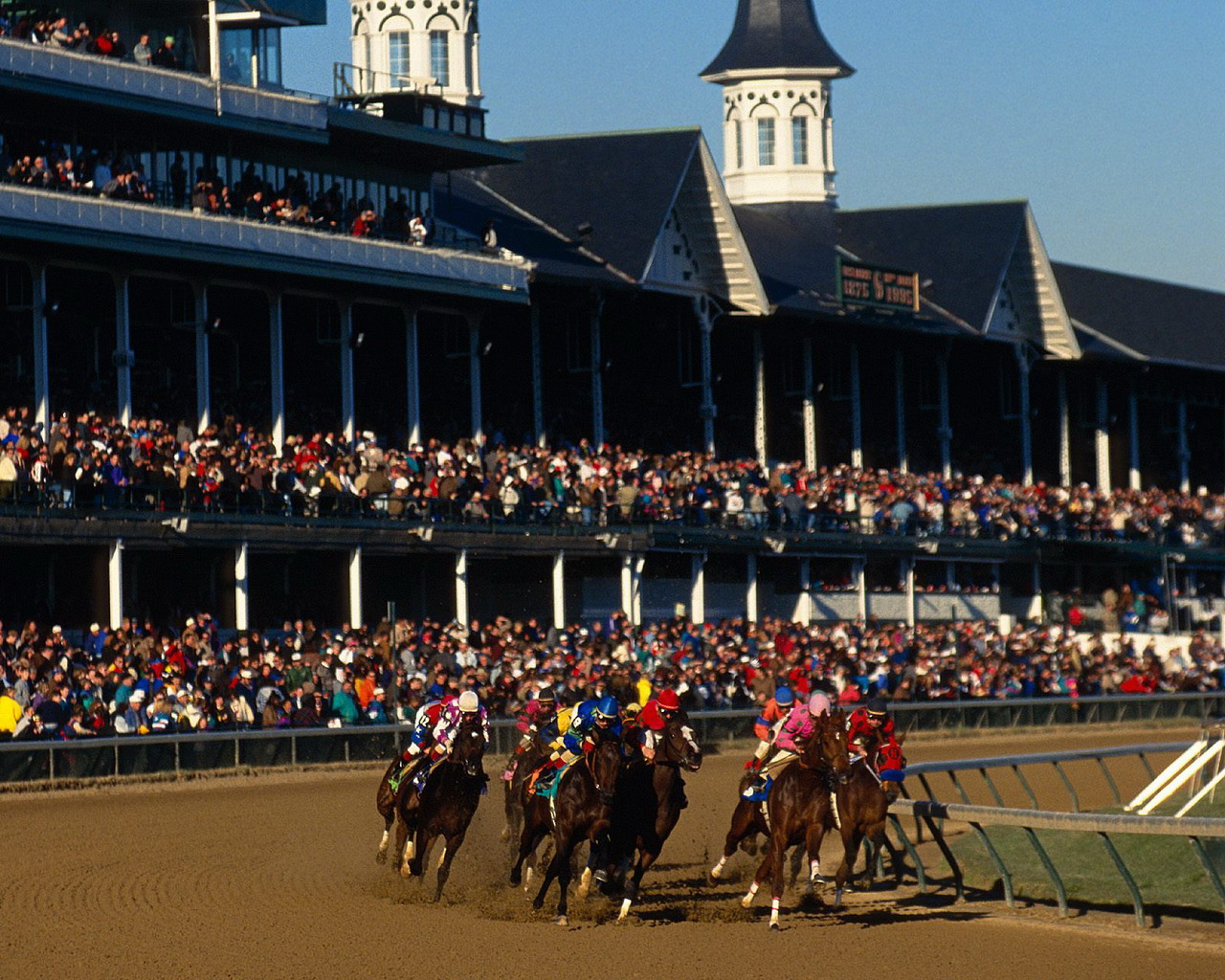 May

03
Tags
Related Posts
Share This
Run for the Roses
Once again the First Saturday in May is upon us, and with it, the 139th running of the Kentucky Derby — the greatest two minutes in sports.  Having correctly selected the winning horse for two consecutive years, the pressure has mounted this year
EDITOR's NOTE: he's not kidding, readers were clamoring for his picks again
In scoping out possible win candidates for the Derby, I subscribe to the theory that the most important handicapping tool is envisioning how the race will play out.  All sorts of factors play into this — pace, stamina, racing luck — but the twenty horse field (unheard of in North American racing otherwise) makes it a complicated task.  It's no secret that the best horse doesn't always win the race, but instead the horse with the best trip.  With that in mind, let's move on the twenty horses that make up the 2013 field:
Scratched: Black Onyx.  I gave this one little chance anyway, particularly with the inside post draw.  Stewards have decided to leave the 1-hole open, rather than move everybody one post closer inside.  A very good decision in my opinion, and one that opens up the rail.
The Pretenders: Golden Soul finished a well-beaten 4th in the Louisiana Derby, and doesn't seem to be in the same class as most of these…Giant Finish was 3rd in the Spiral Stakes in his last outing.  He's slow, and really is nothing more than a vanity entry by his connections.  An absolute toss…Falling Sky comes out of the criminally slow Arkansas Derby, and couldn't even finish in the money in that one.  Have heard some say to watch for him running late — I'm not buying it…Charming Kitten is the weakest of the five Todd Pletcher-trained entries.  I'm willing to dismiss his chances completely…Frac Daddy may pass some tiring horses, but looks too slow for this…I have zero confidence that Will Take Charge is capable of getting the 1 ¼.  Has never gone beyond 1 1/6, and that is no way to prep for this race…Overanalyze won the Arkansas Derby, and normally I'd view that as a big positive.  But this year's edition of that race was slow, and Overanalyze was able to plod past a lot of tiring horses.  His final 3/8 was in 38.8 — not impressive.
Worth A Look: I just denigrated the Arkansas Derby, and relegated three horses that finished ahead of Oxbow that day to "pretender" status.  Yet, I rate Oxbow higher than any of them.  I like this horse, and think he has a chance to crash the bottom of the exotics.  He had legitimate excuses at Hot Springs, and is one who could take a step forward.  Will be running late…Normandy Invasion seems to be this year's version of a wise-guy horse.  He ran a pretty strong second to Verrazano in the Wood Memorial, and is eligible for better things in Kentucky.  Chad Brown has yet to train a Triple Crown race win, and that will change someday.  I'm skeptical that happens Saturday…Vyjack was third in the same race, and has the look of an improving sort.  Think his chances are compromised severely by the 20 post…And what of Verrazano?  He was installed as the second choice in the morning line odds, and is certainly going to be the top selection of many top handicappers.  I'm not buying it, as I think he's regressed since early in the year, and has no two-year-old foundation to fall back on.  He will likely make some noise this year, but I don't think it will be in the Derby…Java's War and Palace Malice ran one-two in the Bluegrass Stakes, a race run on the synthetic surface at Keeneland.  I was visually impressed with both of them in that race, but the time came back a bit slow.  Additionally, both must prove that they can excel on dirt surfaces.  I think either one is more than capable of hitting the board, but I wouldn't be surprised if they finished towards the back of the pack either…Lines of Battle is an interesting colt, winning the UAE Derby at Dubai over 1 3/16. Dubai shippers have been coming to Kentucky for several years now, and have yet to make any serious noise.  That said, there was a time when they would come over and be overrated and over-bet.  I think we've reached a point where they are now a bit underrated.  This guy is bred to run all day, and if he takes to the Churchill surface, he is certainly a threat to crash the exotics at a nice price.
Top Contenders: I think it's safe to say that Goldencents is going to be a popular horse in Kentucky, if for not other reason than the fact that Rick Pitino is a 5% owner of the horse.  He exits a win in the Santa Anita Derby with the only last-race Beyer over 100 (105).  He is trained by last year's Derby winning conditioner, Doug O'Neill.  He looks physically imposing, and has a running style that seems to fit this race.  I am not making him my top selection, but I think he is very capable of winning the race…Itsmyluckyday chased Orb in the Florida Derby, and ran nearly as impressive as the Derby favorite in that one.  The connections are interesting — jockey Elvis Trujillo and trainer Eddie Plesa are hardly household names, but they are consummate professionals who know how to win races.  I think he's eligible to take a huge step forward at a very square price…Orb was the one Itsmyluckyday was chasing, and has earned Derby favoritism off of that effort.  He had a monster workout on Monday, which has everybody proclaiming him the next big thing.  Look, I think he's a super horse, and very capable of winning this race, but that workout isn't entirely favorable, in my opinion.  I'm not a big proponent of a blowout that close to a race of this distance (and stature).  I don't think he wins this one now…Revolutionary looked outstanding in winning the Louisiana Derby, finishing the final 1/8 in a strong 12.5 seconds.  He's done nothing wrong in his racing career so far, and comes from the loaded barn of Todd Pletcher.  Also gets the services of Calvin Borel in the irons, who seems to know a thing or two about winning at Churchill, and this race in particular.  Would probably be my top selection but for the fact that I don't think the price is going to be very attractive, which leaves…
Your Winner: Mylute  as my selection to win the 2013 Kentucky Derby.  He ran a strong second to Revolutionary in the Louisiana Derby, just missing running that one down.  He looks to be coming into form at the perfect time.  Yes, he's only two for nine in his career.  Yes, he's yet to win a graded stakes.  And, yes, I know some people question is ability to get 1 ¼. I'm not buying that last concern at all, and recent years have proven that being the son of a champion sprinter is not a deterrent to winning the Derby whatsoever.  I've studied his breeding thoroughly, and believe that the distance isn't going to be a problem at all.  In fact, I think he's one of the best-suited horses for that distance, with a favorable running-style to match.  Tom Amoss is a fantastic trainer, and would be a very popular winner on the Churchill backside.  Rosie Napravnik is one of the hottest jockeys in the country, and is due to win a race of this stature.  I think she will get that elusive win on Saturday night.