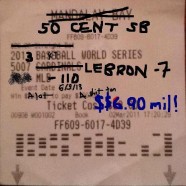 Jun

04
Tags
Related Posts
Share This
The Floyd Fantasy
The media and bettors alike love a great sports betting story, especially when it involves large numbers. The one major problem is when stories are written and given national media attention by reputable outlets despite being completely untrue. Yesterday provided another black eye for the advancement of sports gambling news coverage when a larger than life rumor gained traction through the twitterverse after it was picked up by major news media.
Here are 4 reasons (beyond the actual fact we know it never happened) that Floyd Mayweather didn't have 5.9 million bet on the Miami Heat in Game 7. (ticket image courtesy of @Kunk7)
Before I actually dive into those specific reasons, let me say I'm embarrassed that our own local news media here in Las Vegas didn't take the time to verify the story before allowing it to generate momentum nationally (I still don't know how Vegas Gambling Steam is a reliable news source).
1) The Source
The story broke from the twitter account @Pregame_Steam. This account as you see in the biography links directly to a known sports rumor mill designed for doing one thing and one thing only; generating pick sales for its ownership group led by Incarcerated Bob.  It's not a reach to say this is the journalistic equivalent of the national news media citing the National Enquirer over White House correspondents when writing articles on US foreign policy. The lackluster effort and fact checking that went into validating this story boggles my mind, there's absolutely no excuse for it ever happening if we care about accuracy in reporting.  I spoke to one of the most respected journalists David Purdum currently covering the sports betting industry and here's what he said about the topic at hand:
"To me, it's very telling that the initial report of the supposed Mayweather bet came from a Twitter account that uses a logo of a company it is not affiliated with. They are pretending to be something they aren't. It's just childish and unethical, and it clearly speaks to the credibility of these folks, who all continually promote Incarcerated Bob."
2) Logistics
Sportsbooks here in Las Vegas (or offshore) aren't in the business of taking $5.9M bets on games PERIOD, especially those that won't generate enough betting handle to absorb the magnitude of a single game wager like this. The Superbowl is the largest sporting event here in the state, consistently attracting the largest bets. A bet of this size would send shockwaves through any sportsbook on that game, let alone a NBA Conference finals that may see 1% of that overall betting handle if I was inclined to be overly generous.  Just to put this in perspective for this story to be plausible, here's what would need to happen:
Floyd's high profile around town allows him to make large wagers not available to customers off the street, that part is fact. Even if he were to be offered $500k per book for this bet (which didn't happen), he'd need roughly 12 different casino operators willing to take his action.  There aren't even 12 large books in Southern Nevada (Cantor, William Hill, Stations, LVH, Caesars, MGM, Wynn, Boyd) to accept this kind of bet. Even if we break it down further and say each individual casino took $100k (still a pipedream), I implore anyone reading this story to try and get 59 different betting shops to take 6 figure wagers.
3) Experience
I know the sports book operators in this town where large limit wagers are encouraged and accepted; no one is taking a bet this size even from a Vegas legend like Floyd. If one shop were to take the wager, their entire earnings for all of Q2 would be dictated by it's result. At that point it no longer becomes bookmaking but rather gambling with house money. While everyone likes a good story, very few book directors (if any) would put their jobs on the line for one game.  Dare I ask why Floyd would also bet $5.9M rather than $6.6 to win 6? Nah, seems overly simplistic to ask those questions.
4) Fact Checking
No sports book operator anywhere in the city corroborated the story. Yes, every book protects the privacy of its players but you would have heard a PR team or even a ticket writer running to twitter to share the news with anyone that would listen.  My personal favorite was the actual picture circulating last night of the alleged ticket from Sunset Station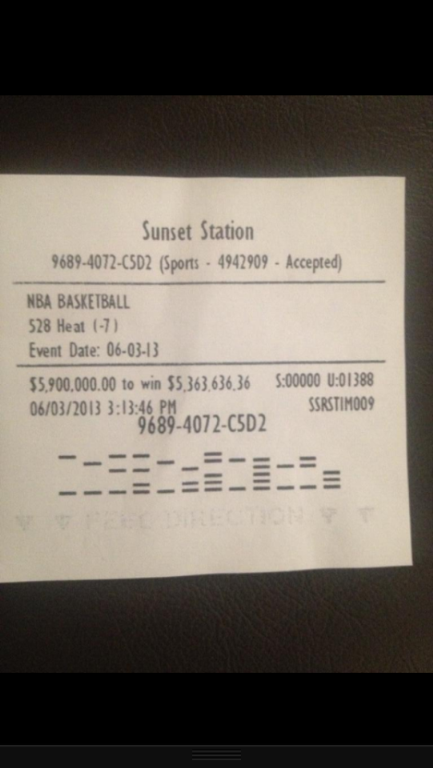 When you work in this business long enough, you tend to have sources and people you can trust for information. I'll categorically say this ticket doesn't exist and would be shocked if we ever saw one for this denomination get printed at Sunset Station in the immediate future.
If anyone's looking for further comment from me on the story, I'll actually be down at the Bellagio tonight trying to bet 7 figures on the LA Kings to win Game 3.