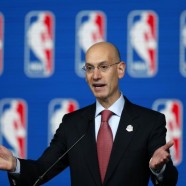 Jan

05
Tags
Related Posts
Share This
Legalized Wagering
The topic of legalized sports wagering, especially in relation to its impact on the NBA, has been a hot button topic since Adam Silver's ground breaking comments months ago.  On New Year's Eve, a columnist named Jay Evensen had some pretty scathing comments about potential ramifications of Silver's position on the topic in regards to fan experience.  Here's an excerpt from his article:
…Which leads me to a New Year's warning as I peer through my crystal ball into 2015. Appropriately, it is sports related, and it goes like this: If the NBA succeeds in making it legal to wager money on its games, it would be a bad thing for the league, the sport and, to some extent, Utah's economy…
Click here to read the full article
Todd's Take First things first: I know nothing about the current state of Utah's economy.  However, I do understand in this progressive era of local casinos and lottery development Utah remains staunchly opposed to games of chance. The Legislature shall not authorize any game of chance, lottery or gift enterprise under any pretense or for any purpose. Now this is well and good because I personally hate state lotteries as well.  Each state should govern its people accordingly but I believe Jay is missing the point here.  Evensen uses the 1919 Black Sox scandal back in 1999 along with the 2007 NBA scandal involving Tim Donaghy to make his point about integrity of sport.  To his credit he doesn't appear to be of the opinion that the act of gambling itself would change the propensity for games to be rigged but rather he cites the fan experience as being vastly different with legalized wagering.
Wait what?  To claim the fan experience would drastically change with widespread legalization of sports wagering is ridiculous.  Anyone who has set foot in a NFL stadium during the fantasy craze knows a majority of fans in the building have a vested interest not only in certain teams namely not their own but actual players on the opposing roster.  Talk to team owners around the league and part of their focus is on improving fan experience: creating environments with better internet or hand held devices allowing fans to keep tabs on other games! Why you ask…I'm willing to bet with pretty strong conviction it's gambling or fantasy related.  Gambling is a driver of interest for sports: whether it's NFL, college football, NBA, etc the growth of single game wagering through largely illegal channels (unless legalization is imminent) coupled with the huge boon in daily fantasy is the wave of the future.  Citing concerns about fan experience being ruined seems antiquated.  If you don't believe me spend time around the world at soccer matches, rugby, or even right here at a UNLV home game and I can tell you first hand that fans are still glued to the action living for their teams above covering the number (unless of course it's a blowout…then the cover is key)
Even if some people already pay attention only to point spreads, bringing that above-board would legitimize it, increase the behavior and rob sports of a measure of its innocence.
To cite sports as actually having a measure of innocence seems an aggressively optimistic view of big business right now.  Younger generations are exposed to a culture of endorsement deals, relocation, free agency, etc right from the start as it pertains to professional (and college) athletics.  Gambling provides an avenue for generating interest among fans of legal age.  In this day and age with so many different avenues of entertainment right at our fingertips, sport needs to keep up with the competition.  While I respect Jay's view point on the pitfalls of widespread sports gambling legalization, I'll state with the utmost confidence using his words none of it "would be a step backward for the game and the cities that host teams."