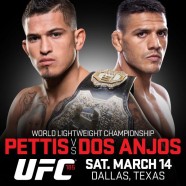 Mar

14
Tags
Related Posts
Share This
UFC 185
UFC 185 Texas Tapout: Pettis vs. Dos Anjos
Welcome fight Enthusiast to UFC 185. Let's open by utilizing a quote from Mr. Warren Buffet displayed on the Gamblou.com webpage…
"Price is what you pay, Value is what you get."
We display this wisdom simply because the basis for our positions in any sporting endeavor is gaming value. Many would say (as we once did) that if you feel like you know the winner of any particular event then grab it no matter the price. We disagree with that philosophy.
In the UFC we feel our true competition is with the men setting the lines who over the last year or so have become much more difficult to contend with. We set our own numbers for each match then test ourselves by comparing our numbers with the opening lines. It is in this competition (and believe me it is a true test) that we derive the foundation for our 'opinions'. It is also our belief (our intent is not to criticize) that the UFC wagering populous is inexperienced, lacking in savvy and light on gaming acumen. It's with a 'gut feel' for what we believe the true odds should be in any particular fight coupled with the value we may obtain from enhanced prices based on line movements that we publicize our gaming releases.
Pure gaming value is our single goal so with that said let's just mention two fights we discussed earlier in the week in discussions with professional MMA journalists.
Pacheco -125 vs. de Randame +105
This was a target fight when we had the opportunity to share our thoughts on The Fight Corner Thursday AM with Ms. Heidi Fang. At the time de Randame was +135 and it was our opinion that we may be able to catch her at this price or better by fight time. De Randame's length, reach and experience were our reasons for this opinion but the line has moved away from us. At the current price it is difficult for us to recommend a position where we are giving away .30 cents in value. This fight is now a pass unless we see the number get back to at least de Randame +125 or better.
Dariush -120 vs. Cruickshank +100
This is similar to the situation as above. We dissected this fight with our friend and supporter Gabriel Morency on SportsRage radio this past week as well with Ms. Fang. Our position here has already been made; Dariush +140. This aggressive line move is cause for concern (as discussed we are skeptical of major line moves in UFC markets). At current pricing (which is all that matters to our readers today) this is a pass situation for Cruickshank opened -190 and now he's even money. Any feeling Cruickshank offers value at current pricing are correct but at the end of the day Dariush's age, height and ability to take this fight to the mat have us believing we have the correct side so we'll take the 'market advantage' and hold.
-Let's Fight-
Rosholt -335 vs. Copeland +275
This is wrestler/grappler Rosholt vs. stand up bomber Copeland. Rosholt is an accomplished wrestler and while we tend to lean wrestlers against most in the MMA arena when it comes to styles it is against competent strikers where we feel wrestlers can sometimes have disadvantages. Rosholt's last, a loss to Oleinik showed us that if taken into the late rounds Rosholt's lack of IQ (he choose to strike with a striker) and his chin are suspect. Enter Josh Copeland, a cat that throws as Angelo Dundee used to say, 'Sunday shots'. Copeland may hold cardio advantage (don't judge the book by the cover) living and training in Colorado. After opening a fair +170 current pricing offers us almost a whole dollar in line value. As is the case with heavyweights, one good bomb can end a fight. We will make a move that 'Cubby Bear' can use his athleticism to keep this one standing and find Rosholt's beak and break it.
Copeland +275 (half)
Pearson -410 vs. Stout +340
Pearson opened up -210 for this scrap which we thought was pretty accurate for a fight we consider to be a bit closer than even the opening number. Pearson is the more accomplished striker here but his lack of defense is of great concern and it is our belief that he's actually older in fight years than his 30 yrs. of age. Pearson's off a pretty one sided loss to Al Iaquinta and he gives up a touch of height and reach to the journeyman Stout. Stout on the other hand has been less than spectacular going 2-3 in his last five but it is the desperation of this individual, his toughness and the fact that he has been off since 4-16-14 that give us the feel that we will get his absolute best effort here for with a loss Stout may find himself looking for other employment and we truly feel he is aware of this. Stout was a fair +160 now we get to double that offering?
Stout +340 (half)
Overheem -155 vs Nelson +135
Alistair Overheem is utilizing fighting IQ since his move to the Jackson-Winkeljohn fight camp in 2014. Fight IQ is important in this fight for Overheem's point is as fragile as porcelain which is muy importante here as he is up against a guy in Roy 'Big Country' Nelson that could fell King Kong with his heavy right hand howitzer. Roy however is 38 yrs. old and relies too much on his hammer right hand. Roy is also giving up 4" in height, 4 yrs. of age and 8" of reach in this fight….numbers too obtuse for us to overlook. We feel Alistair is in a fine spot here provided he softens Nelson up with his vicious kicking game then uses his size to get 'Big County' to the mat and smother him in essence negating Roy's robust right hand. Overheem opened up -190 which we felt was correct for this fight. Gaming value is available with Overheem in this fight.
Overheem -155
Carla Esparza -135 vs Joanna Jedrezejczyk +115
We must use first names here! We talked at length this week about what a dynamic and outstanding match-up this is for MMA purists. Esparza has been the champion of the 115 woman's weight class for years and she's earned her position. Esparza is a smothering wresting based fighter who has dominated all they have put her up against. In her last fight she faced a lethal striker who without question prepared her well for the style of fighter she will face tonight.
Joanna on the other hand is a lethal striker who showed real fortitude in earning a decision against one of the highest quality Jiu-Jitsu fighters in the women's flyweight division in her last outing. Joanna's last also prepared her well for this fight which is why we view this matchup as possibly one of the most stylistically interesting fights of 2015.
Where this fight takes place will tell us who will win this fight for if Carla can get Joanna to the mat she will cover her like a wet blanket. That said if Joanna can get past the first round and use the size of the Octagon to her favor (these are 115lb. women fighting in the large octagon) she will be able to move and attack the incoming wrestler and make things awfully difficult for the wrestling based Carla. This fight will be like watching two fly's in a barrel if Joanna can keep this standing and we feel this is exactly what will transpire. When we discussed this fight with Heidi this week we announced that we had already moved on Joanna at +135. It looks like we were fortunate for today's number has compressed. Still at any plus number we feel that the Polish striker will be able to withstand the takedown attempts of the Champion and win this fight in impressive fashion.
Jedrezejczyk +115
Pettis -525 vs. dos Anjos +425
While we respect 'Showtime' as being the most offensive fighter in the UFC we also have real suspicions about this price, his focus and his opponent. Pettis' last fights have seen him devastate Melendez, Bendo, Cerrone, Lauzon and Stephens. While this is absolutely impressive one look at that list and we see that Pettis has had to compete with killers his last five bouts without a 'tomato can' in there for any relief. This is why we love the UFC over Boxing…they make their Champions face the top guy fight after fight. We are very uncomfortable with fighters talking about 'legacy' and their greatness within the UFC at any stage of their career and this kind of talk from Pettis forces us to feel uncomfortable with his focus on this fight. Further the fighter Anthony is facing is a savvy veteran who has had quite a run through the division himself.
Dos Anjos is a big powerful man who upon his entrance into the Octagon tonight will weigh at least 170 to 175. Also dos Anjos can forget about future shots at this title with the 'murderer's row' of World Class Lightweight MMA competition within this division so we feel Dos Anjos will offer us his absolute best tonight. When we can spot a fighter that will give us every bit of focus and fight we pay attention. Further this fight opened with Pettis as the -350 favorite….a price we respect but today that price has skyrocketed with parlay players feeling that Pettis is the forgone winner.
Our plan in this bout is to wager a half unit on Dos Anjos now and use patience to accomplish two things: first, tote profit into this fight via results of tonight's earlier fights so we can toss a few more dollars on the mangy mongrel that few feel may fight with Pettis. Secondly, allow this price to continue to increase for we feel we may be able to squeeze another dime or two of value prior to the opening bell.
Dos Anjos +425 (half…for now)