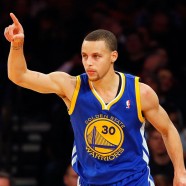 May

27
Tags
Related Posts
Share This
Liability Report
The NBA is one game away from their potential star studded dream scenario.  Assuming Golden State avoids the first ever 3-0 series collapse in league history, the Warriors will open as considerable favorites against the Cleveland Cavaliers in the NBA finals.  For a few sportsbook operators, Golden State raising the Larry O'Brien trophy would be anything but an ideal result for their future book.
William Hill opened the Warriors at 15-1 back in June of last year while the Cavs were listed at 50-1 BEFORE Lebron James elected to take his talents back home to Cleveland.  Most books, including William Hill, were able to stay comfortably ahead of the Cavs crush of future money that flooded the market once LBJ finalized his plans. However, they were not so fortunate to stay ahead of the upstart Warriors swell of support amid their hot start and surprising season.   Entering the conference finals Golden St represented 39% of the remaining future tickets at Will Hill equating to 66% of overall money wagered.  The Cavaliers accounted for 27% of future tickets but a much more manageable 18% of money being wagered.
Westgate Superbook also finds themselves in a situation where a Golden St championship creates a losing scenario for their NBA futures pool.  Back on June 9 Golden State opened at 20-1 while Cleveland was listed at 60-1 to win the title.  In a brief conversation with Jeff Sherman last evening he said that while a Warrior victory would indeed be a small loser for his book the current position wasn't substantial enough to impact the way they plan to book the finals.  For casual bettors unfamiliar with what this industry jargon means, sportsbooks always have the option of shading series prices accordingly to steer action.   This is always an option every time you hang a number but a more prevalent practice in the finals to eliminate futures liability if necessary.  If there wasn't a need to have one sided action to balance the future book shading prices too much would invite an undesirable deluge of one sided sharp action from the professionals.
For those wondering what to expect when it comes to a NBA Finals opening series line Sherman told me he makes Golden State -300 for the best of 7.  Oddsmakers at the Greek Sportsbook shared their expected opener on twitter a few days ago quoting a slightly lower opener
.@Metta_World_War About Warriors -240.

— The Greek Sportsbook (@BetTheGreek) May 26, 2015
Regardless of where the line on the finals opens, there will be plenty of sportsbook operators rooting for Lebron to bring the city of Cleveland it's first ever NBA title since the franchise's inception back in 1970.